The world's best one-to-one Online Piano Lessons directly from London!
Piano lessons London by WKMT - Your piano lessons delivered by professionals
WKMT Piano lessons London / Australia - Our team of experienced professionals are trained to succeed. We know about piano lessons… Whether you are training for a board examination -ABRSM, Trinity College...- or just for your own enjoyment we will tailor our educational approach specifically to your musical needs. Taking piano lessons has never been so smooth, effective and enjoyable
YOUR PROGRESS IS OUR MAIN RESPONSIBILITY
PIANO LESSONS AND THE BEST PIANO TECHNIQUE
Helping you develop self-confidence through your piano lessons is one of our main concerns. We believe a consistent approach to piano technique helps consolidate our playing massively. For that reason, our piano lessons London stay in line with the Vicente Scaramuzza piano technique, the most celebrated performance mechanics. This magnificent performance device is used by current leading international concert pianists as Martha Argerich, Bruno Gelber, Daniel Barenboim and many others. Piano lessons London that truly work depend on applying the right teaching methods.
We will plan your piano lessons so you understand the basic 5 piano movements: finger movement, forearm movement, arm movement, wrist/palm movement and rotation –in its three forms-
In case you are not based in London, join our online piano lessons.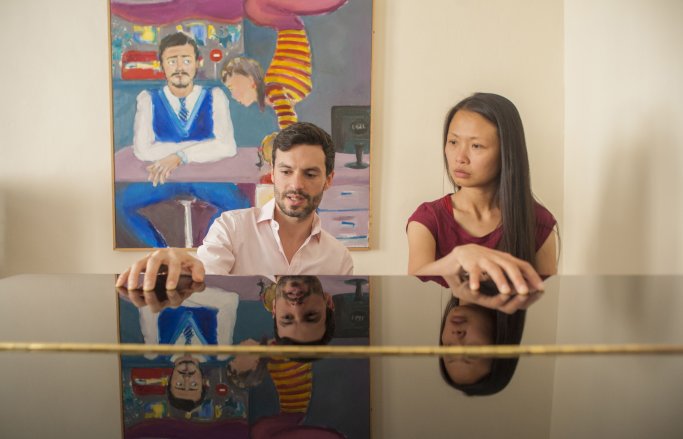 YOUR ENJOYMENT IS OUR MAIN GOAL
PIANO LESSONS THAT REALLY LEAD YOU TO PLAY
Our Music Festivals, Contests and Galas are done PROPERLY and to the highest standards. We are very lucky to have consolidated a team of professional piano teachers that is not only qualified but also experienced and knowledgeable. The first thing you should check when choosing which teacher to get your piano lessons from is his/her recording portfolio. Our professionals have available high-quality recordings uploaded to the internet on a regular basis. Piano Lessons London by WKMT
OUR DIRECTOR IS A ROUNDED MUSICIAN
A TRUE MUSICIAN DEDICATED TO DESIGN THE BEST PIANO LESSONS FOR YOU
Piano lessons London / Australia by WKMT – Juan Rezzuto is an experienced professional with thousands of hours delivering piano lessons to all levels from beginners to Master degree training. You can very easily find out about his recording portfolio as a soloist, performing recitals and piano concertos in the UK and abroad. After consolidating his career as a pianist and composer in London, his main passion is now to propagate his devotion to music and the piano itself. His piano lessons are precise, effective and magisterial and he is the one in charge of guaranteeing the educational consistency of WKMT among all its senior and junior associate teachers.
FULL FLEXIBLE BOOKING SYSTEM
A revolutionary system that allows you to take your piano lessons at any point during the week or weekend while we keep your training strong and consistent. Interrupting your lessons is detrimental for your learning curve. At WKMT we make sure your piano lessons happen regularly and reliably. We have a no-teachers-cancellation policy which is at the heart of our teaching philosophy.
PROFESSIONAL HOME TUITION SERVICE
Our professional home tuition service grants all our piano students with a reliable, fully consistent and never interrupted training. This revolutionary and fully monitored tuition mode articulates online reporting and an internal assessment system with a 24/7 customer service at your disposal. You can focus on your piano lessons while we take care professionally of all the logistics involved.
We know about your busy schedules, that's why we integrated our monitoring and teaching teams so you can always count with a reliable professional for your online home piano lessons. We are trained to organize the exact lesson you need, with the precise team member and at the right slot. Piano lessons have never been so easy!
STATE-OF-THE-ART MUSIC EQUIPMENT
All our top-of-the-range hybrid pianos are connected to interactive screens so our piano students can work on their updated piano notes. At WKMT, you will never suffer from the loss of your physical material. Each of your piano lessons track is safely stored in our private cloud for safe and easy access. We have a Monday to Sunday customer service team ready to send you any missing score on request.
WE KNOW THE BRITISH GRADING SYSTEM
The grading system can be daunting… We know how important these exams are for your educational career and we are trained to give you the support you need to guarantee your success.
Our straight-to-the-point approach guarantees successful results within an optimum time frame. We work on ABRSM and Trinity College Examinations on a daily basis. Our piano lessons are tailored so each student approaches the grading system in the most specific as well as efficient way => BEST RESULTS + BEST TIMING
ADVANCED LESSON REPORTING AND MONITORING SYSTEM
After every piano lesson, each student receives a systematic account of all the subjects approached during the session. This 3D report [Technical exercises + Pieces + Music Theory] is then monitored by our directive team and kept in our internal database to make sure the teaching consistency never suffers. The piano lesson reports are produced following a standard structure which is particular of our studio and very easy to understand. This format allows you to easily find the information you are looking for and makes sure you can optimise your practising time by knowing exactly what you need to focus on.
.
THE BEST MUSICAL HOSPITALITY
To complete a rounded elevating experience, your piano lessons at WKMT are complemented with the best musical hospitality. Our collection of artisan drinks features: Nespresso coffee in all its variants (luxurious and fresh cappuccino, latte, lungo, among others) and the most amazing teas by Mariage Freires and Twinnings.
We truly believe taking piano lessons in these days is a luxury. It is true that you need a strong discipline to keep up with your progress, but the pleasure of connecting with this amazing instrument can make you travel to a different reality one in which you are the featured artist and music is just all around you.
Piano lessons London / Australia by WKMT is a high-end professional choice for Australians looking to take piano lessons under WKMT London teachers via online, or certified WKMT teachers in Australia. We are deeply committed to helping you experience a full immersion into the music world. Music is a gift of inspiration and pleasure, one of the most elevated kind, and at WKMT, we are prepared to make your musical education experience truly memorable.
Our studio started back in 2010. Our achievement is due to being 100% committed to your success and your comfort.
At WKMT, you will establish the objectives you want to attain and make a path towards them. As you walk along this path, you will go through many circumstances. Your piano teacher will introduce you to the tools which will allow you to unlock a world shaped and coloured by music. You will not only discover the manifold aspects that learning to play the piano entails, but also you will get to know your teacher and he or she will get to know what you like, what you can do and what you long to be able to do. You will share experiences, dreams, hopes, fears, anger and even frustrations. It is at this moment when the right teacher makes the difference! Piano lessons London are truly effective only then. He or she will support you and encourage you to do your very best, no matter how hard the circumstances may be. Your teacher will be your guide but also your friend, someone who can identify with you because he or she has been in your place some time ago, has managed to overcome fears and difficulties, and has reached his or her goals. Your teacher is a living proof that you can make it, that you can succeed.
Taking piano lessons involves much more than learning about the wonderful world of music. Learning to play the piano means gaining access to your potential in a way you never imagined before. Come and join a team of professionals who know who to get the best out from you.
REVEALING FACTS
We have five years of experience. We are settled and that helps us reach some interesting figures…
0
Successfully Grade exam entries
GET IN TOUCH
We are ready to help you find out more about the best piano study plan for you. Call us or send us an email Monday to Sunday 9am to 9pm and start enjoying piano lessons designed just for you!
WKMT

 interacts with these organzations