WKMT students will perform at a superlative festival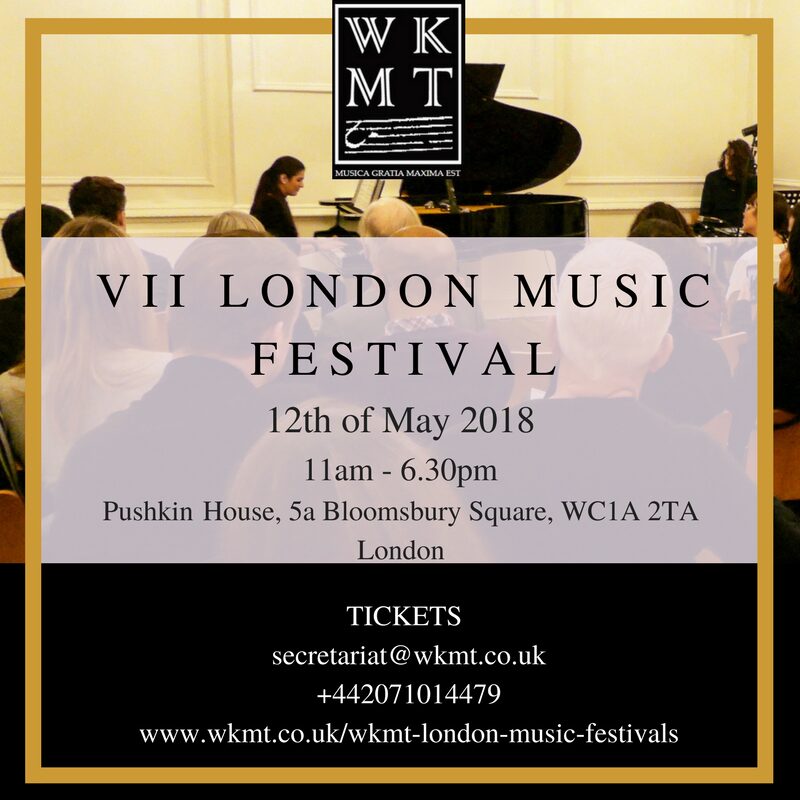 WKMT students will perform at a superlative festival.
WKMT students will perform at a superlative festival on the 12th May 2018.
Here we bring our vii edition of London music festivals by wkmt.
https://www.piano-composer-teacher-london.co.uk/wkmt-london-music-festivals
We are very happy to introduce our next London Music Festival, this time happening at Pushkin House – Fitzrovia. This iconic venue constitutes an amazing step forward for our event and the natural evolving route for the bi-annual celebrations of our piano festivals.
Time is a commodity that does not come cheap these days, and when our students invest their time in practice, we love rewarding them for all the effort they have made by giving them the opportunity to share their achievements and results of their hard work in the form of giving a live performance. They will have the chance to invite their friends and family while also getting inspired and motivated by the performance of their fellow students.
Everyone will be provided with a professional HQ audio and video recording of the full concert to share the experience with friends or to re-experience it in the comfort of your own house. Our studio specialises in producing professional Grand Piano Recordings for concert pianist and session artists. On this occasion, we will merge both of our branches into one single event so our students can enjoy the real benefits of studying in a well-equipped studio.
At WKMT, we truly believe in music as an essential skill for everyone. Not only for all those who want to become concert musicians and commit their entire lives to music, but also to all those willing of learning such a great art theoretically and practically speaking. That's why our main responsibility is to keep our students active and motivated through different opportunities and activities. Our London Music Festivals are the perfect choice to make them aware how important is to be fully focused on something to put it in practice in front of an audience. You don't really know what you feel skydiving until you jump off the plane. The same happens with music and piano.
Go to the link aforementioned and book your tickets! Let's start your piano adventure with the leading piano studio in London.