Classical Concert in London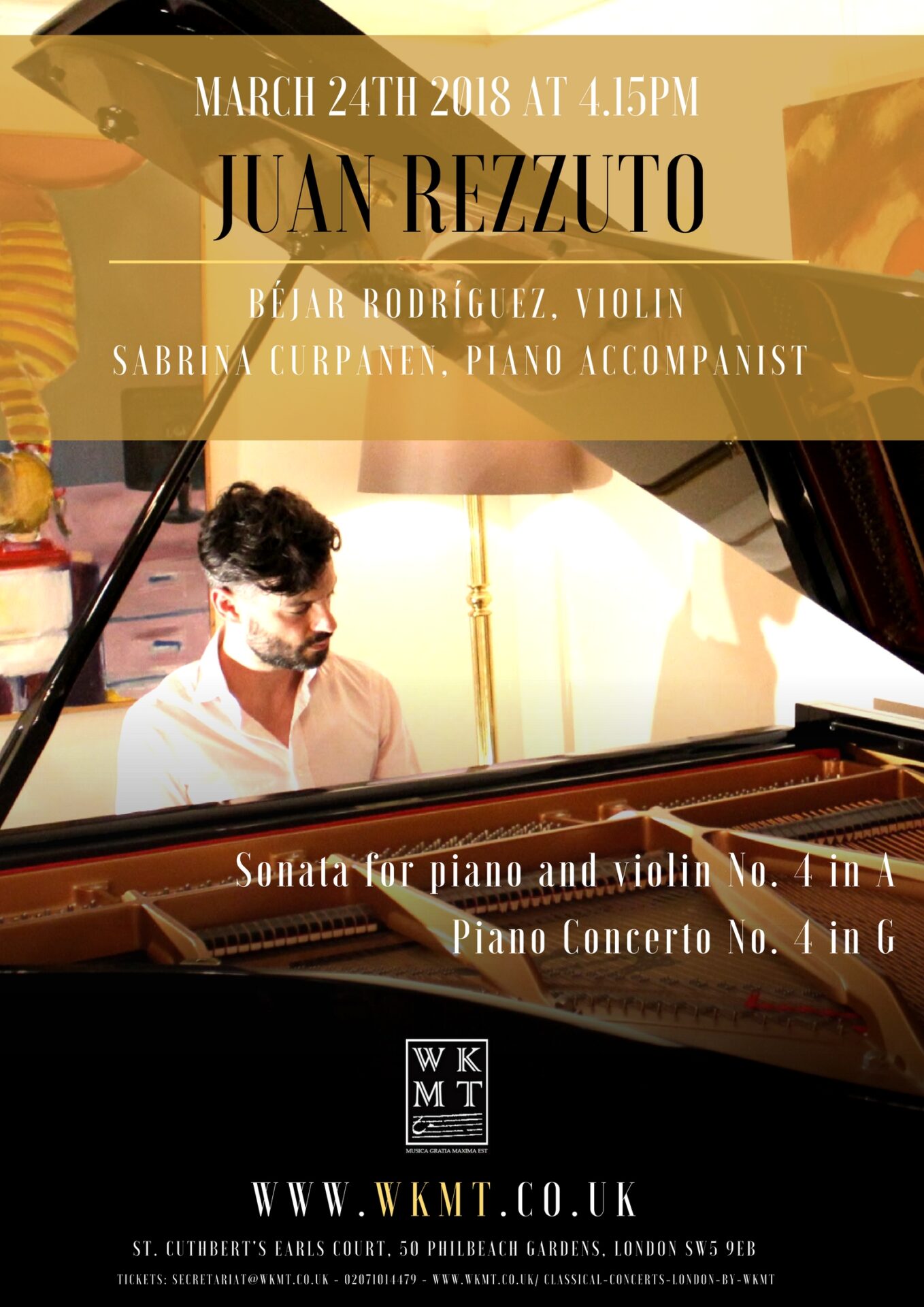 classical concert in london.
Classical concert in London by WKMT.
Our next classical concert performed by juan rezzuto on the 24th march.
https://www.piano-composer-teacher-london.co.uk/classical-concerts-london-by-wkmt
Juan Rezzuto performs Haydn accompanied by Irene Bejar and Sabrina Curpanen in his next piano concert on the date aforementioned. Juan Rezzuto, founder of WKMT, composer and pianist, will perform as a soloist two Haydn works: Haydn Sonata for Piano and Violin No.4 and Haydn Piano Concerto No.4.
This concert is such a great opportunity as it is an anticipation of what he will be performing in his next concert with the orchestra in London after summer. Juan Rezzuto is very committed with the musical education of his students, and that's why he created this classical concert series every month to help his students to socialize in this kind of social events, as well as being able to criticize classical concerts and performances.
Do not hesitate to book your seats soon by clicking on the link aforementioned or calling to 02071014479. For more info and details about the concert check the following:
The first piece is called Sonata for Piano and Violin No.4. This unusual ordering of the instruments reflects the prominence of the piano part compared to its violin counterpart. This piano and violin sonata has been published as a solo piano sonata by removing the violin section.
Haydn's Piano Concerto No. 4 in G is Haydn's second most famous piano concerto. As opposed to his concerto in D – Haydn's most known piano concerto -, this concerto is simpler in its orchestration. It can be played accompanied by a string orchestra and its character is certainly settled and pompous. For this occasion, Sabrina Curpanen will be doing a string orchestra on a second piano.
Juan Rezzuto will play these pieces accompanied by Irene Bejar – violin and Sabrina Curpanen – piano accompanist.
PROGRAMME 
Haydn, Piano and Violin Sonata No. 4 in A
Allegro
Menuetto al roverisco – Trio
Finale, presto
Haydn, Piano Concerto No. 4 in G
Allegro moderato
Adagio Cantabile
Rondo Presto