Our February classical concert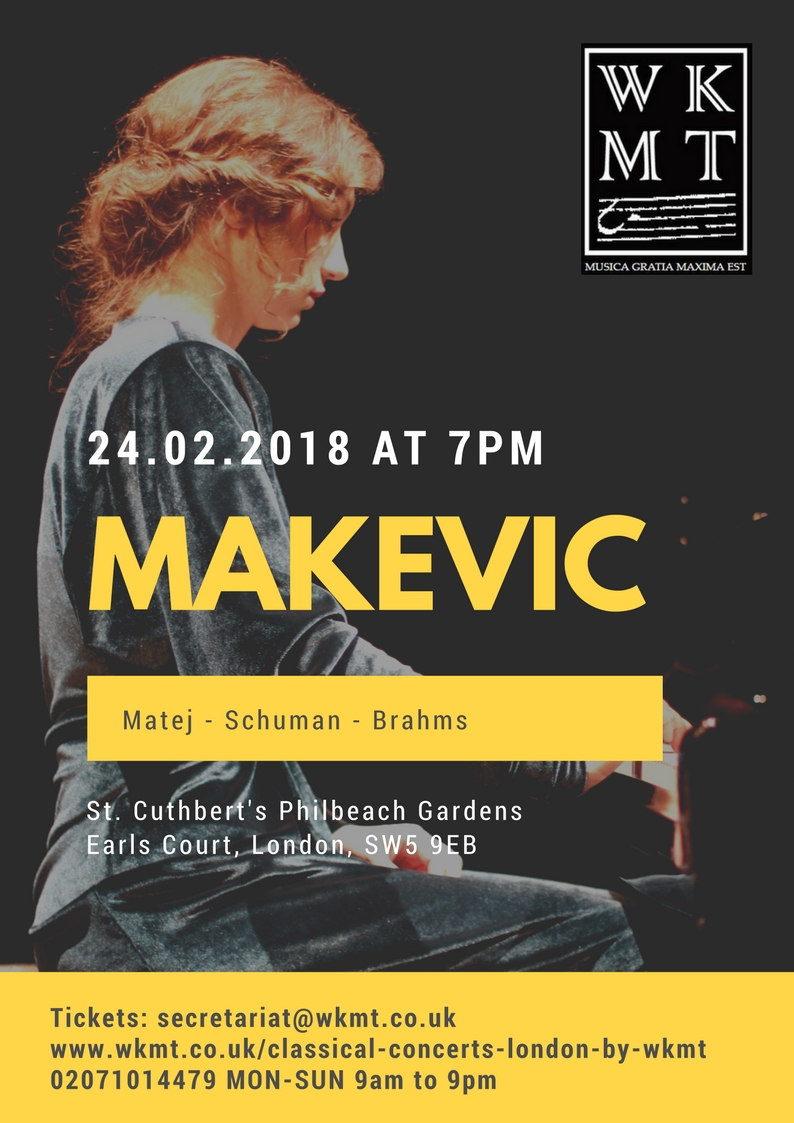 Our February classical concert.
Our February classical concert.
We have all organised for the classical concert of February by WKMT.
http://www.piano-composer-teacher-london.co.uk/classical-concerts-london-by-wkmt
Katarina Makevic has already made a strong and long-lasting impression on our November 2017 London Music Festival. After a very warm welcoming by all our music community, she is ready to perform again. This time, a wonderfully arranged piano set of 19th-century music by Schumann and Brahms with the addition of a homage to Chopin written by her co-national Matej.
Katarina is a serious pianist. Her interpretations are characterized by a rich and enticing tone quality applied to every single passage. Her velvety sound suits perfectly the repertoire of her choice.
PROGRAMME
 – Daniel Matej Fragile
 – Robert Schumann Piano Sonata op. 11 in f sharp minor
Introduzione
Allegro Vivace
Aria
Scherzo e Intermezzo
Finale
– Johannes Brahms Balladen op. 10
__________
At WKMT, We strongly recommend our students to assist these very important events. In order to develop our music skills properly, we need to be exposed to professional concerts. In addition to the latter, if we can collegiate the concerts, much better!
Assisting musically relevant events along with your fellow students to increase the chance of having to produce professional music opinions. We don't only learn music during our music lessons, we also learn music while listening to it. Ideally, our fellow students will ask us questions that will challenge our listening abilities. These questions will create discussion and hopefully, this discussion will lead piano students to acquire personal music perspectives. Music is a social art and as such, it requires us to socialize with other musicians and people in general.
 For Tickets please contact WKMT office on 02071014479 Monday to Sunday 9 am to 9 pm, or by clicking on the link aforementioned. There you will find all the info and details of this great concert.