Piano concerto by Maestro Juan Rezzuto and WKMT String Ensemble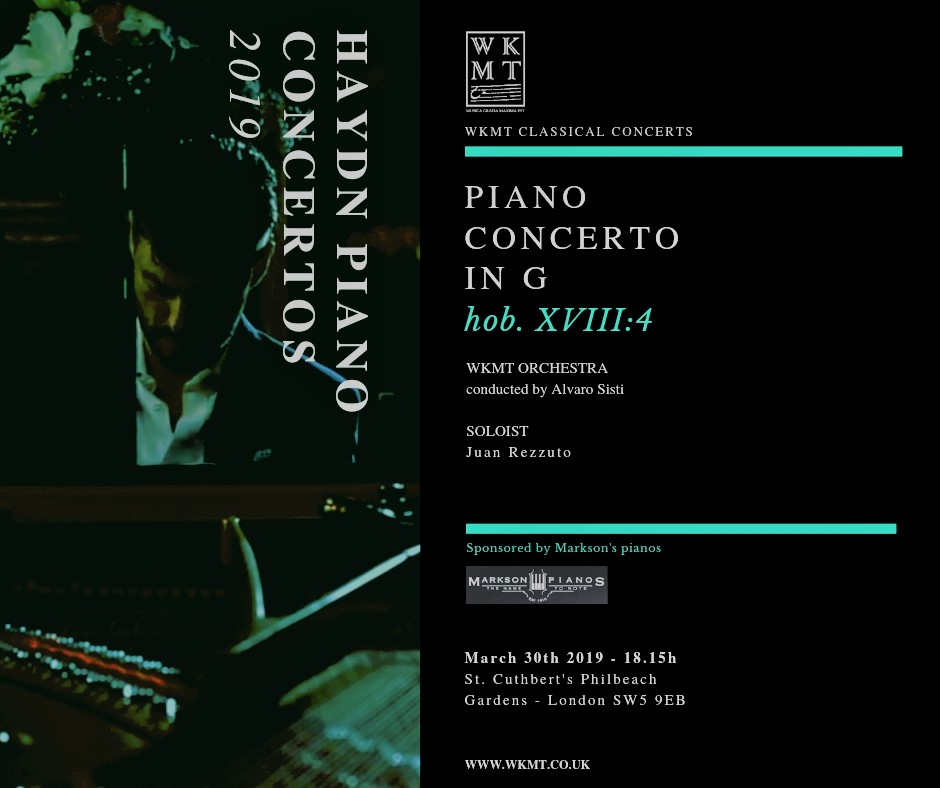 Haydn piano concerto in London
This 2019 started with Piano duos by Alvaro Sisti and Cristina Guerra Juan, Harpsichord baroque music by Avelino Vazquez Groba and Anthony Elward on Violin, and now in March we welcome this event in which a soloist with the mature capabilities and insight of Maestro Juan Rezzuto chooses to perform this captivating piece for no reason apart from its delightfulness.
Monthly Concerts are offered to all WKMT Piano students to enrich their musical knowledge and refine their artistic taste. It is with great pleasure that the studio will welcome new members of the String Ensemble this year. Part of our task within the Piano Tuition is to foster the enthusiasm or our students to attend these concerts as part of the music training they receive in our studios, that is why every month they are invited to this opportunity to enjoy music as part of our musical community.
This particular Concerto is one of the most delicate and elegant ones; with its lean scoring for strings alone, Haydn's concerto has alluring melodic and colouristic richness. The Concerto in G major XVIII: 4 is a delightful, inventive work, more memorable in its ideas and more adventurous in its keyboard writing than his previous Concertos. The powerful modulating sequences at the centre of the opening Allegro recall the sonatas and fantasias of C P E Bach, which Haydn studied in earlier years in Vienna. Strings are muted for the highly ornamental and florid C major Adagio which almost resembles a Rhapsody, crowned by an expressive little orchestral coda. But the most arresting movement is the rondo finale, full of the most characteristic Haydn fervour and with one of his earliest flirtations with the Hungarian gipsy style, and as a corollary of the event, Juan Rezzuto will play cadenzas composed by himself.

The culmination of this concert will be in charge of WKMT Children's Ensemble who will interpret pieces of Beethoven, Dvorak and Belwood.
You are all invited and we sincerely hope you can come!