Our Director's Concert in London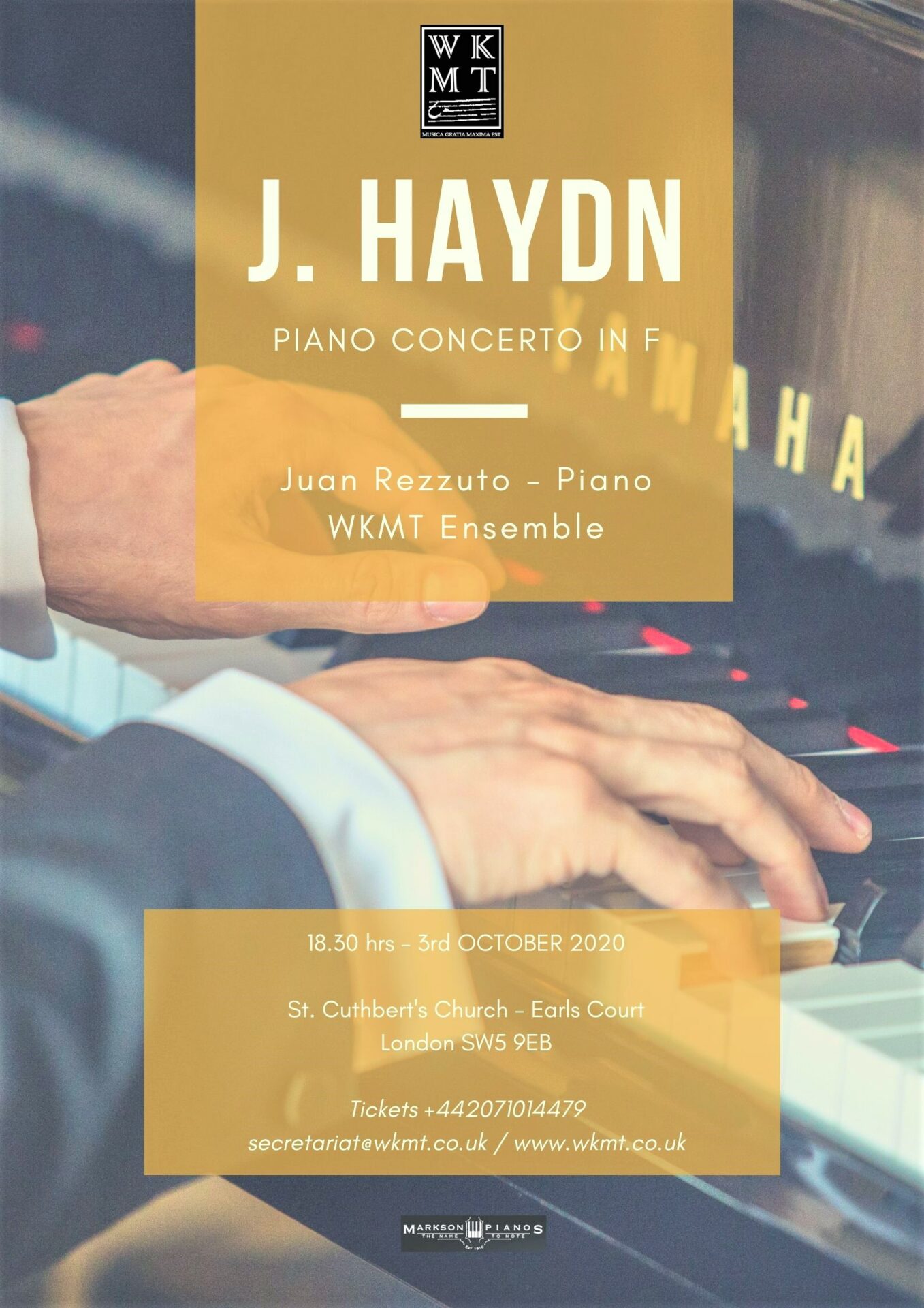 Haydn piano concerto in F Hob XVIII:3 was composed by the Maestro in 1771.
A jewel of classical music. An example of a fine and elegant classical piano concerto should be made.
The concertos written by Joseph Haydn for piano are masterpieces of how classical music was thought and perceived for that while. Refined pieces created to entertain the public, and create the perfect ambience. We must remember that Haydn, most of their compositions, were written for their patrons. Music they only were able to enjoy, and sometimes, they allowed their guests to enjoy in their parties or balls. Something very elegant and unique, accessible to only a few. Some time, not much later, all the pieces were released to the entire society of that time. And so until now.
Thanks to Maestro Juan Rezzuto, our founder and Director, who analysed all these pieces, and decided to commit himself to play all his piano concertos. Such a great idea we talked about in our previous posts, that WKMT has become his main supporter for this project.
We are now going through hard times with this Coronavirus which hit entire Europe. It has made stop entire countries, economies and daily activities from one day to another. Something that our generation had never suffered before. It really made a huge economic loss to several countries, and it will affect our relationship with China afterwards. There is no doubt about it. What makes us wondering how the situation will be once all this passes. Once all this becomes part of the history, how our daily lives will be?
None really knows, we will see how it evolves, and overall, how we react to the new situation.
We, as musicians, are making a call to everyone to stay safe at home until further notice. It is the only way of making this virus disappear for once at all. The sooner we do this, the quicker this virus will be history, and we all may get back to normal again. Taking measures, of course, but getting back to our daily routines, and that way little by little, we could start enjoying our social gatherings quicker than expected.
In case all this is gone by Summer, which we truly hope it is, we have organised a classical concert in London for you all, and this is it, Haydn piano concerto. Some other performances are yet to be listed, just waiting for this situation gets normalized.
Do not hesitate to contact to check all the details in the link aforementioned, as well as staying tuned for the latest news about this concert and other music events in London.
We all may get back to normal very soon. Stay well.