Our next WKMT Concert in September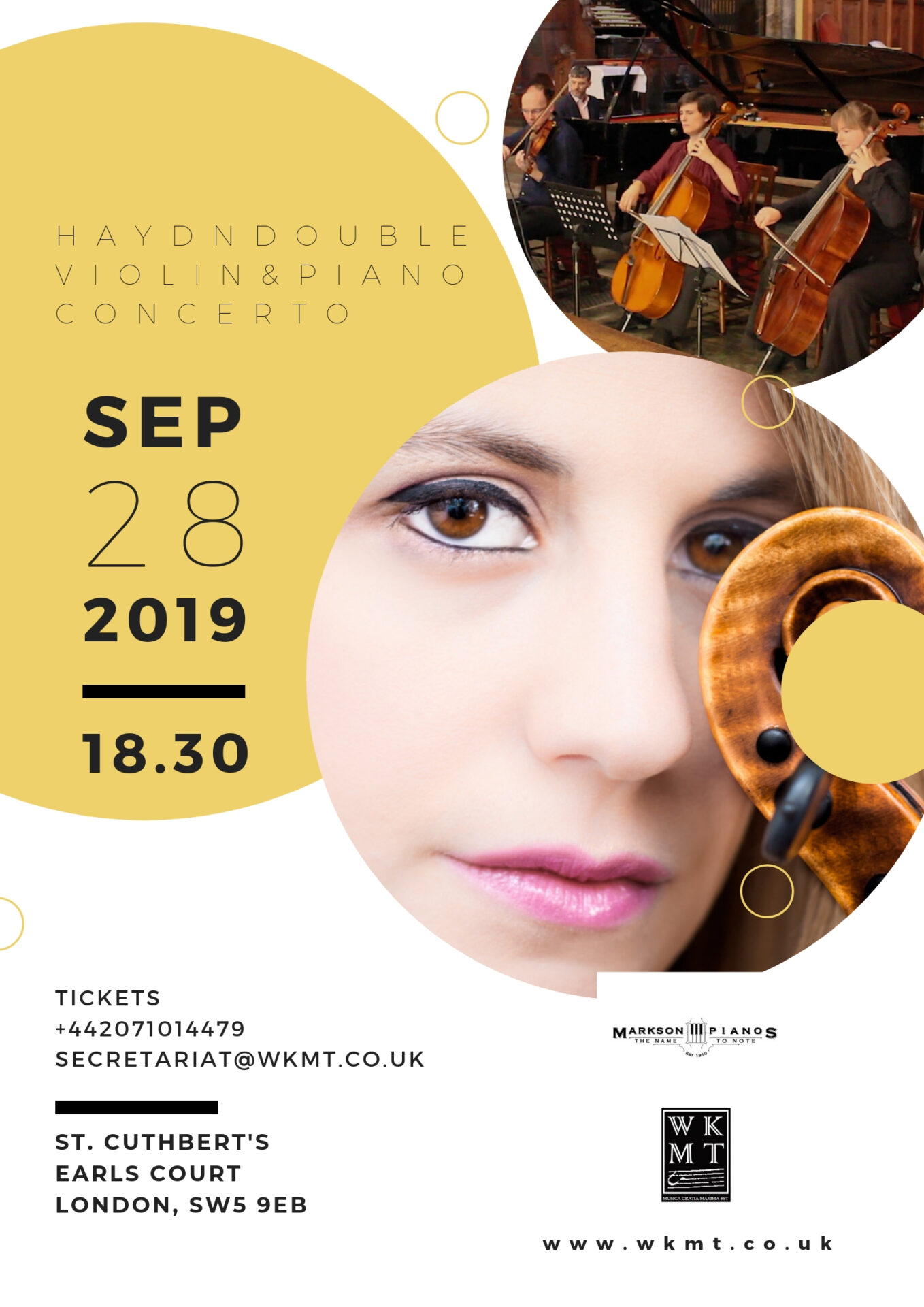 Haydn Piano and Violin Concerto in London
One more time, WKMT offers a delightful musical experience for all our members. In this occasion, we will perform the Double Concerto of Joseph Haydn for Violin,  Piano and String Orchestra in F major Hob XVIII:6 by the solid and elegant interpretation skills of Juan Rezzuto at the Piano and Paola Delucchi on the Violin, conducted by Alvaro Sisti and WKMT String Ensemble.
Our concerts offer to all of our Piano Students the opportunity to have an insight of the Scaramuzza Piano technique at first hand by our Director in order to enrich their Piano tuition, gaining the perspective of how much you can achieve with this method of learning.
This Concerto is Haydn's only work in this form. He accomplished almost an intimate, chamber-like piece. He composed this Concerto in 1776 while working under the patronage of the Count of Esterhazy. Particularly interesting from the interpretation point of view, we can undoubtedly say that the piece is one of the most idiosyncratic forms of the Classical period. This Concerto balances excitement with intimacy and Paola Delucchi and Juan Rezzuto will surely perform the beautiful counterpoint between the piano and solo violin, up to their technical challenges and produce music that is convincing and enjoyable at the same time.
A few words about the violin soloist, Paola Delucchi:
She has performed and organised many concerts across Europe and abroad (UK, Italy, China, France, Switzerland, Austria, Poland and Germany) as a soloist, chamber musician and orchestral leader.
Her prime interest lies in chamber music. She has played in many ensembles, performing from baroque to more contemporary repertoires, winning several renowned competitions, such as Harold Craxton Prize (London 2012) and Castiglione Delle Stiviere and Città di Castello (Italy 2008). Besides her music literacy, Paola gained a Master's Degree in philosophy at the University of Genoa with summa cum laude in July 2008, specializing in philosophy of music.

Don't forget to book your tickets in advance. We will see you at the Concert!